Goepel SCANFLEX II
High Performance Controller for Embedded Test and Programming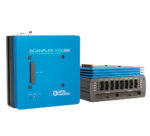 SCANFLEX II is the new generation of modular JTAG/Boundary Scan controllers. Based on the latest multi-core processors and FPGAs, SCANFLEX II opens new ways for the Embedded JTAG Solutions. The multifunctional architecture of the SCANFLEX II allows users to combine numerous technologies with high performance, an this on a single platform.
Goepel SCANBOOSTER II
Low to midrange performance hardware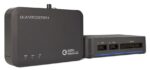 SCANBOOSTER II Provides an optimal solution, in particular for standard applications with lower performance requirements.
Goepel SCANFLEX
Modular, Flexible and Performance Scalable hardware.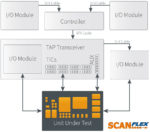 JTAG/Boundary Scan system architecture SCANFLEX consists of three components: Controller, TAP Transceiver and I/O Module.
Available in three performance classes (A/B/C). Modular expandable TAP transceivers with a number of (up to 8) parallel, independent TAP and (up to 31) independent I/O modules, ensuring open scalability of required resources.