TRESKY appointed Accelonix as distributor for their pick-and-place Systems for the Benelux, covering the Netherlands, Belgium and Luxembourg.
We can now offer a series of powerfull bench top Die Bonders, ideal for use in R&D labs, but also usable for pilot and small scale production lines.
The TRESKY systems are flexible and easily adapted to match many die bonding needs. Different products and process technologies are possible with easy changeovers.
For over 30 years, Tresky has been working to perfect the art of pick-and-place systems. Tresky supports many applications. From manual to automotive, adhesives to tools, Tresky has the extensive experience and modular setup to meet customers' needs. With many devices installed across the world, and often with specialized and custom equipment, Tresky relies on its fast, flexible team of professionals to rise to the challenges of complex process requirements.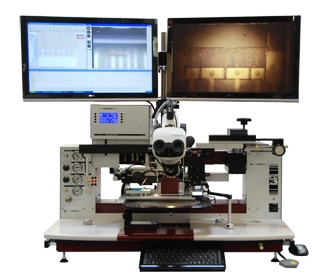 The company integrates "True Vertical Technology" into each of its product innovations. This technology provides numerous benefits, including:
The bond axis is vertical to the work table, meaning the chip is always parallel to the substrate, resulting in high parallelism accuracy.
Active power measurement, independent of the height Z in the force, is always measured, i.e. variations in the thickness of chip and/or substrate affect neither the parallelism nor the bond strength.
"Bond Line Thickness," i.e. the adhesive layer, can be accurately defined by measuring the chip and substrate thickness.
The large Z-stroke also makes it possible to bond in deep cavities. Ideal for 3-D stacking.
The wide range of TRESKY die bonder products from simple and inexpensive to fully automatic are designed to provide simple, precise and reliable solutions for many applications within the microelectronics industry.
For more information on the TRESKY systems and applications click here.