AP+ Automated Die Sorter: New Automatic Inspection
Royce Instruments is excited to announce that they have successfully developed an automated inspection package for the AP+with sub-micron resolution and multi-spectrum top surface illumination.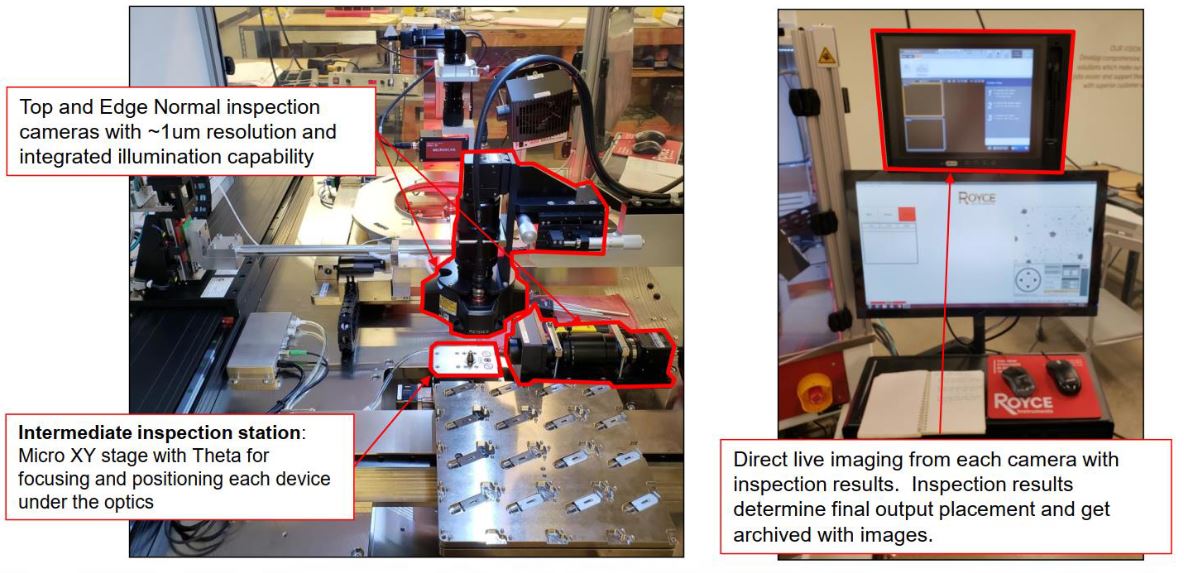 Application Details:
For automated visual inspection of top, bottom die surface and one edge surface.
Inspection to be performed during the AP+'s die sort process after pick and before placement to output
Inspection done by Keyence CV-X camera and softwarepackage. The Keyence software allows for recipe-based inspection and metrology criteria with MANY different algorithms to detect and. measure different aspects of each device
Variety of cameras and illumination options available specific to a particular inspection requirement and die size
Allows devices to be screened for:
-Singulation and wafer thinning defects (cracks, edge chip outs).
-Foreign material detection.
-Device feature inspection.
-Dimension verification.
Die sorted to output based on inspection results. After inspection devices can be sorted into multiple bins/trays based on the results.
Inspection results included in AP+ run log for complete traceability.

Technical Specifications:
Die placed on inspection pedestal with X-Y-theta adjustment for die position correction prior to the inspection of 0.03 degrees for theta and 10 microns for X and Y (to ensure edge image is in focus), up to 360 degree rotation and 1.0 inch travel in X-Y directions possible.
One camera for top surface inspection and one camera for edge inspection (both cameras are 21 MP, 16x speed, monochrome).
Ultra high-resolution, low-distortion, telecentric macro lens for top and edge inspection offers approx. 4x optical magnification for sub-micron pixel resolution, allowing features as small as 1.68 microns to be detected (assuming aminimum of 2 pixels per feature).
Top illumination: Multi-Spectrum LED Illuminator, available peak wavelengths UV (405 nm), Blue (457 nm), Green (527 nm), Orange (600 nm), Red (660 nm), Far Red (730 nm), Infrared (860 nm), and White (600 nm) (one wavelength at a time).
Side illumination: Red LED Ring Light with Diffusion Plate.
Image export to USB 3.0 HDD (SSD) or SD card.
Inspection controlled by Keyence CV-X platform, which includes:
-Variety of inspection tools for ease of programming including tools to detect flaws, presence/absence, count, OCR, measurements and dimensions, etc.
-Image processing filters allow for more robust performance of inspection tools, for example the subtraction filter compares current image to reference image and highlights differences.
-Ability to perform a multi-capture inspection where each image can have different capture settings (including different illumination wavelengths) and different programmed inspection tools.
System can be configured with one camera and lens for applications where only top surface inspection is needed.
For more information please visit our Royce AP+ productpage or contact us directly.