Free Radio Equipment Directive (RED) Seminar,
hosted at Labo De Nayer (B) on September 13, 2022
On September 13, Labo De Nayer will host a free seminar on RED Conformity assessment & Notified Body certification.
Accelonix will participate in this seminar with a tabletop presentation and demonstrations of several instruments, such as Keysight EMI receivers and Teseq susceptibility generators. We are also happy to discuss our solutions for wireless and OTA testing as offered by ETS-Lindgren.
We hope to meet with you during this live event.
More information about the program of the seminar and the venue is available online, accessible with a click on below picture.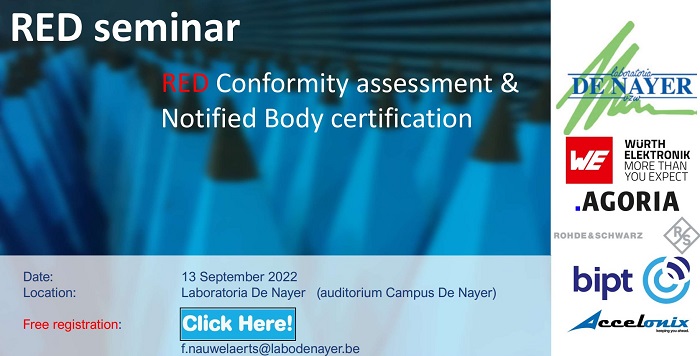 FOR FREE REGISTRATION PLEASE CLICK HERE TO SUBSCRIBE!
Registration is handled through the website of Würth Elektronik 
Direct links to the equipment that we will demonstrate:
Keysight :  EMI Receivers and Signal Analysers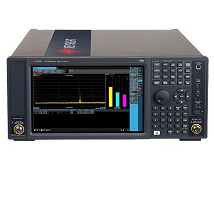 Discover the Keysight EMI receivers with industry leading sensitivity performance to allow detection of small signals close to the noise level, common in radiated emissions measurements;
Full compliance with CISPR 16-1-1 and MIL-STD-461G, ensuring your EUT complies with worldwide and regional standards; Time-Domain Scan and accelerated TDS capabilities to meet dwell measurement requirements while reducing receiver scan and test time from multiple hours to seconds; Full signal visibility, where the Real-Time Scan provides gapless signal capture and analysis in up to 350 MHz bandwidth and simultaneously displays the frequency domain, time domain and spectrogram, with all EMC detectors.
Teseq :  Compact Immunity Test Generators and Amplifiers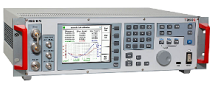 Teseq offers RF Immunity test systems covering applications with frequency range from 4 kHz to 6 GHz. Depending upon the mode, the test systems can be ordered integrated with different options such as amplifiers, power meters, switch and EUT monitoring.
Through the three brands of Milmega, IFI and Teseq, we can offer a wide range of Solid State RF amplifiers to meet application requirements including EMC, Military, Communications, Instrumentation and High Energy Physics.
ETS-Lindgren :  Wireless and OTA Test Solutions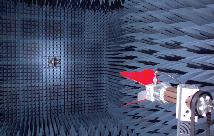 ETS-Lindgren is the world leader for wireless Over-The-Air (OTA) Performance Testing of Wireless Subscriber Devices and in the development of significant intellectual property in wireless OTA measurement.
ETS-Lindgren is uniquely qualified to address the emerging 5G and mmWave test requirements as well. ETS-Lindgren has the solutions to meet your 5G New radio testing needs.
Copyright 2022 Accelonix BV – Luchthavenweg 18-b Eindhoven, NL-5657 EB – www.accelonix.nl
Your comments, questions, and suggestions are welcome via e-mail to sales@accelonix.nl
If you do not wish to receive further e-mails CLICK HERE to unsubscribe from this list