2D Profile Measurement
Step Height (avg., max. and min. height)
Flatness and Warpage
Width and Length
Cross Section Area
Angle, Radius, Contour Analysis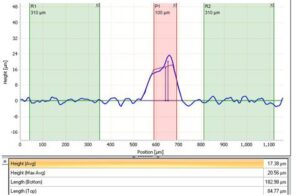 Define base line and measurement areas using reference and measurement cursors. Select analysis from dropdown menu.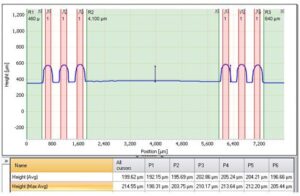 Profile Roughness Measurement
DIN EN ISO conform Roughness Parameters
Shape Removal Algorithm
Abbott-Firestone Material Curve
Histogram
Tip Simulation for Non-Contact Systems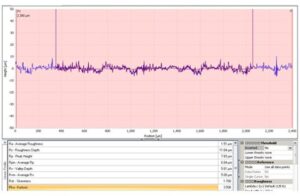 Advanced roughness analysis, even on round or angled surfaces using shape compensation. Display waviness and roughness profile.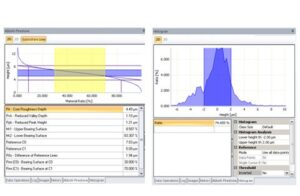 3D Coplanarity Measurement
3D Height (avg., max. and min. height)
Flatness and Warpage
Coplanarity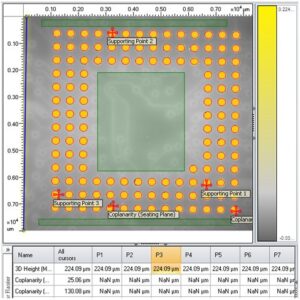 Draw rectangle, round or polygon cursors to define base plane and measurement areas.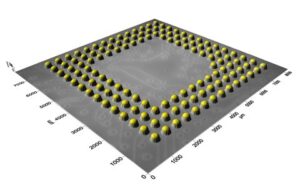 3D Volume & Area Measurements
Volume (Cuts, Fills, Net Volume)
Planar area
Surface area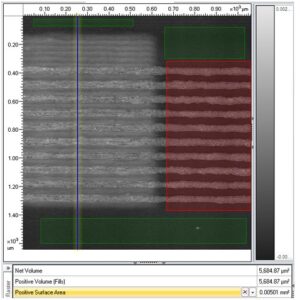 Measures cuts and fills and uses height threshold. Accurate areal and planar surface calculations.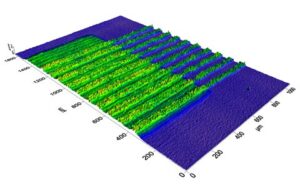 3D Roughness Measurements
New DIN EN ISO 25178 Parameters
3D Waviness Filters
3D Abbott-Firestone material curve, Histogram
Use advanced DIN /TS 16610 Filters. 3D Roughness Analysis even on warped or uneven surfaces.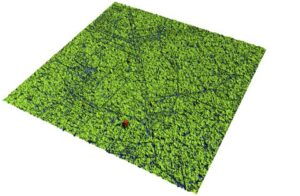 2D / 3D Surface Compensation
2D and 3D Polynom Fit
Pre- and after measurements
Areal Waviness Compensation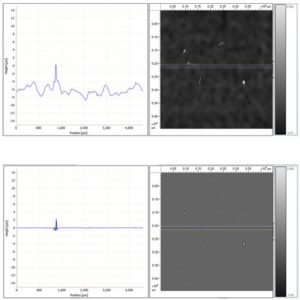 Surface compensation is only applied based on the data in the reference cursors.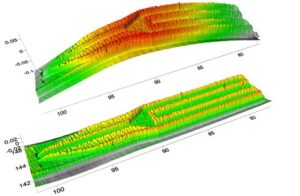 Parallel Data Collection
Parallel scanning with up to 4 sensors
Collect Top, Bottom and Thickness data
Average Thickness, Bow and Curvature
Total Thickness Variation
Parallel Intensity Masking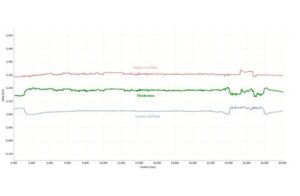 Graphical display of thickness maps and top/bottom surfaces.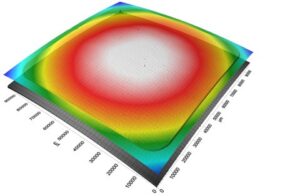 More Features and Highlights
x-, y-, z-data stitching capability
2D and 3D etch detection algorithm
3D surface matching
Raster up to 400,000,000 data points
Integrated user management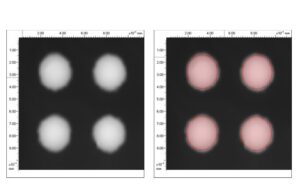 Compare geometry by overlaying profiles.