CION Modules
CION Modules are based on the CION™ interface chip, also developed by GOEPEL electronic.
These I/O modules can be controlled via a TAP or are available as independently controlled resources through the SFX/LS interface.
If the number of required SCANFLEX I/O Modules is very small (only 1 to 2 modules needed) the modules can be plugged directly onto the TAP-Transceiver, eliminating any additional cabling.
SCANFLEX I/O Modules are used to extend the performance and capabilities of the Boundary Scan system with additional test instruments and programming resources, highly modular and scalable to match any specific test/ISP application. Custom specific modifications of standard modules and development of custom modules are offered through GÖPEL electronic's engineering services.
Alternatively, I/O modules can be put into SCANFLEX Carriers, connected to the Controller or the TAP Transceiver through a SFX/LS cable (0.5 m/1.5f t, 1 m/3 ft, 3 m/10 ft, or 5 m/15 ft). These carriers are built in a desktop box and available in different sizes to carry 5, 10 or 15 I/O modules.
Some examples of I/O modules:
| | | |
| --- | --- | --- |
| Digital I/O module featuring 96 independent asymmetrical channels. I/O voltage levels between 0.9 V and 3.6 V | SCANFLEX Mixed Signal I/O Module | Desktop SCANFLEX Carrier for 5 SFX I/O Modules |
Check our Product Overview in de "Datasheet Tab" for a complete overview of available modules. Additional modules are becoming continuously available.
In the range of the powerful JTAG/Boundary Scan Hardware Platform SCANFLEX II GÖPEL electronic has developed a new interface tester. The SCANFLEX II Interface Tester Master (SFX II ITM) enables you to significantly improve the test depth in the field of advanced bus interfaces.
SCANFLEX II Interface Tester Master (SFX II ITM)
The Interface Test Master has 8 independent and freely configurable ITMC slots for inserting ITM cards (ITMC).
With the exchangeable ITM cards, you can adapt the module to your specific test scenario and test the performance of a wide range of interfaces – from simple variants such as RS232, I2C and SPI to more complex interfaces such as USB, LAN and media connections.
The multi-core system's performance enables parallel interface tests of up to 8 interfaces or DUTs. The architecture of the SFX II ITM/8 is optimized for direct installation in fixtures with easy signal feed and wiring. This also optimizes the connection to the DUT.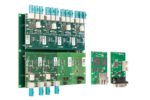 The SFX II ITM/8 is primarily controlled via LAN connection to the SFXII controller, alternatively via UART interface (RS232) or an IEEE1149.1 TAP connection. In addition to operation with SCANFLEX II the Interface Test Master can also be operated as a stand-alone unit. For this purpose it offers an integrated Web Service based on the Web Service Description Language (WSDL).