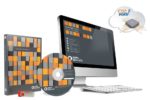 SYSTEM CASCON is the software platform for Embedded JTAG Solutions from GOEPEL electronic.
It offers access to all embedded technologies for testing and programming of complex designs where physical access is greatly reduced or not possible at all.
The SYSTEM CASCON platform is continuously being updated and the new version now introduces the ChipVORX Synthetic Instruments technology.
This allows test instruments to be loaded from the cloud into an FPGA.
ChipVORX SI (Synthetic Instruments) is a new technology for loading test instruments into an FPGA already present on a board. The instruments are adapted to the assembly with a web tool. The user needs neither FPGA design tools nor knowledge about FPGA development – he simply configures the instruments. The ChipVORX SI technology can improve test coverage by testing areas of the board that would otherwise not be accessible via JTAG/Boundary Scan. Furthermore, dynamic errors can also be detected because the tests are performed at functional speed. This also improves the test throughput in production at the same time.
Other innovations of SYSTEM CASCON are model extensions in RAM and FLASH applications, with support for DDR4 RAM interconnection testing. The new models save time when creating test programs and increase the possible test depth. In addition, the execution of SVF files on external testers and the evaluation of the response file can now be used for the subsequent diagnosis of errors. The external SVF execution allows remote diagnosis if the SVF files are executed as part of a self-test, for example. This makes it easy to decide what type of repair is required.