The EM-Test compact NX5 test generator provides an economical solution for pre-compliance and full-compliance immunity testing for CE Marking, while the internal report generator or the external software's control and report generator reduce the engineer's time to process the results.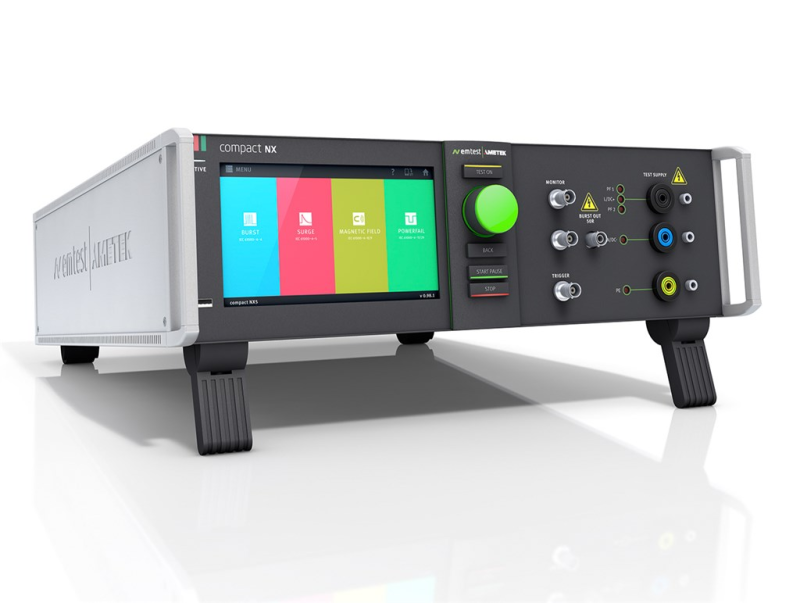 The EM-Test compact NX5 is one generator for:
EFT (Burst)
Surge
Power interruptions
Power dips
Power variations
Magnetic pulse
Telecom surge
Tailor your generator by selecting the modules you require.
ECE-R10
EN 300329
EN 300340
EN 300342-1
EN 300386 V1.3.2
EN 301489-1
EN 301489-17
EN 301489-24
EN 301489-7
EN 50121
EN 55024
EN 61000-4-11
EN 61000-4-29
EN 61000-4-4
EN 61000-4-5
EN 61000-4-8
EN 61000-4-9
EN 61000-6-1
EN 61000-6-2
FCC 97-270 (part 68)
IEC 60255-22-5
IEC 61000-4-11
IEC 61000-4-29
IEC 61000-4-4
IEC 61000-4-5
IEC 61000-4-8
IEC 61000-4-9
IEC 61326
IEC 61850-3
ITU-T K.20
ITU-T K.21
ITU-T K.41
ITU-T K.45
Besides the built-in single phase CDN for both AC and DC applications, a vast variety of coupling devices is available. Like: 3-phase CDN's, clamps etc.
For PowerFail, Dips & Variations we have: tapped Autotransformers and motorized Variacs available.
For Magnetic field generating we have: Magnetic field coils and current transformers available. For transient-tests beyond 5 [kV] we have several other families of generators available.
MORE CONVENIENCE
MORE INTERFACES
MORE INDIVIDUALITY
MORE OPTIONS
MORE SAFETY
LESS COMPLEXITY
LESS TIME SPENT ON MAINTENANCE
LESS TIME SPENT ON REPORTING
LESS MONEY SPENT
As a quality standard a traceable calibration certificate will be supplied with each tester, available from the EM-Test accredited calibration labs. Nevertheless, an optional accredited calibration certificate may also be supplied from the EM-Test accredited calibration labs.
Get yourself acquainted with the specifications of the compact NX5 using this link.
Also interesting in this subject:
---