One of the key points in today smart printed circuit board assembly and electronic product manufacturing is the use of digital twins to mirror the physical processes during the actual manufacturing. The digital twin provides the opportunity to tune and optimize the manufacturing processes upfront. As a result efficiency is already increased and costs reduced from the start of production.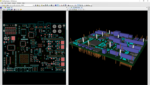 The Testway, twExpress and QUAD software by Aster Technologies provide powerful tools for assessing the testability of electronic designs, optimize and maximize the test coverage and ensure an overall, comprehensive test strategy without any blind spots. The Aster software suite is delivering a unique digital twin for all test techniques (AOI, SPI, AXI, ICT, FPT, BST, FCT…) to help you to design and build better products by:
Simulating the manufacturing, inspection and test flow from schematic or layout data
Identifying possible consequences of inadequate testability and test coverage
Qualifying the defect universe by extracting DPMO figures using traceability and repair loops
Improve future products by anticipating test strategy to the extracted DPMO
For already running production flows, Testway and twExpress can analyse the real inspection and test programs running on the shop floor in order to identify possible deviations and drive a continuous improvement of the quality control.
The economic challenges in designing, manufacturing and introduction of new electronic products (NPI) are critical, but the tools to meet them are already available.
Contact us and learn how also you can build better products with maximum quality and optimized cost and all this in a shorter time than you probably do today.