Learn about the recently published IEC Amendment 1 to the IEC 61000-3-2 standard, which introduces several important changes and how the changes affect EMC compliance testing
Thursday October 1, 2020: 11:00 am US Eastern time | 17:00 pm Central European time
Friday October 2, 2020: 10:00 am Central European time | 09:00 am UK time
Register here: Ametek CTS Registration Page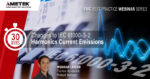 The webinar will provide an overview, for product design teams and test engineers, of the most relevant changes to the standard. During the event, the presenter will discuss the differences to the previous version of the standard and highlight the impact on compliance testing.
Seminar content
The most relevant changes to the standard will be discussed during the LIVE event, these include:
fixed lambda factors for Class C devices
a new method for POHC calculations
clarification of the conditions for multi-function devices
more precise definitions the repeatability
and others
During the webinar you will have the opportunity to ask questions, and all participants will receive an information pack covering the content of the presentation.
We are confident you will find the content useful, and we are hopeful you can join us.