… and acquire a much more efficient and brand-new EM TEST compact NX5, which is: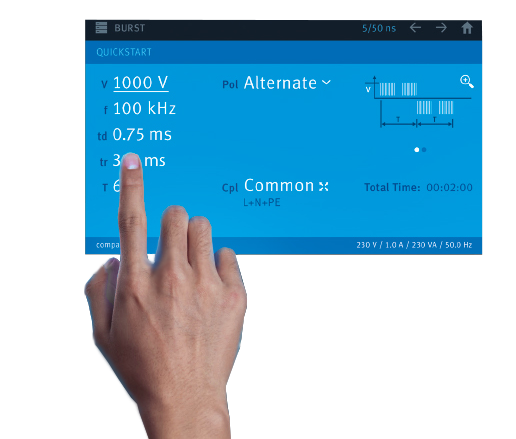 Up to date to all standards.
Really easy to use
Time and money saving
Compact in size
Operate your compact NX5 with its intuitive combination of: colour-touch-screen, push-turn knob, and buttons. You can extend this with a mouse and/or keyboard at the USB-port.
Or control the generator remotely using its various connection possibilities and its advanced user software.
For the: Development-Engineer
Easy to set-up
Compact size
Easy to operate
Pre-defined settings
Manual settings simplified
Test your product to its limits
For the: Test-Engineer
Time-saving, easy set-up
Easy to operate
Time-saving, pre-defined settings
Various test-standards performed sequentially without manual interference.
Internal report generator which saves the test-engineer a ton of time creating the final report.
Automatic reminder is sent 45 days before calibration due date.
Tests according to all applicable standards have been pre-programmed with visualization of the test pulses and setups. You can easily add your own test to the library. A vast library of CDNs for Burst- and Surge tests and transformers/variacs for power fail, power dips, voltage variations and magnetic field tests is already implemented.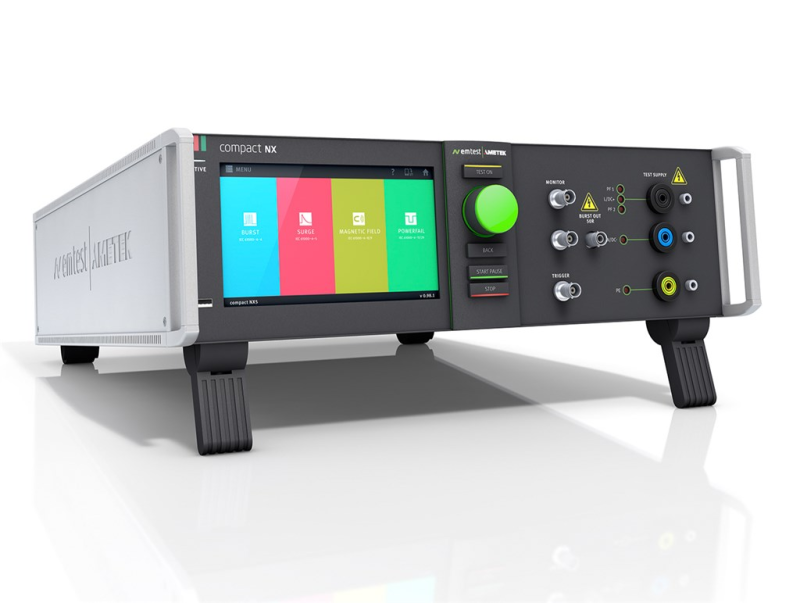 STANDARDS and APPLICATION
IEC/EN 61000-4-4
IEC/EN 61000-4-5
IEC/EN 61000-4-8
IEC/EN 61000-4-9
IEC/EN 61000-4-11
IEC/EN 61000-4-29
IEC 60255-1

IEC 60601-1-2
IEC 61326
IEC 61850-3
EN 61000-6-1
EN 61000-6-2
EN 55014-2
EN 61547

This is the perfect chance to get a compact and "state-of the-art" generator that covers the latest EMC standards and includes enhanced features to make Burst / Surge / power-fail / magnetic field testing… Quick Easy and Safe.
The trade-in programme remains till the 31th of May 2022.
So, make sure your order is placed before that date!
---