Aster Technologies User Group Meeting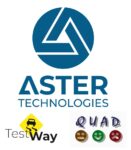 As we like to keep actively engaged with our local customers and users of the Aster Technologies TESTWAY and QUAD software solutions, we are happy to invite you to join our online, Aster Technologies User Group Meeting!
Keep up to date with the new software features and tools, that help to improve the design and development of new electronic products as well as aid and optimize the test and quality management during the assembly process.
Feel free to invite also your colleagues who are involved with development, engineering and production of electronics.
When:
Thursday June 3rd, 10:30h – 12:00h
Supported By:
Aster Technologies: Mr Christophe Lotz and Mr Jean-Michel Boivin
Agenda:

TESTWAY and twEXPRESS: New features and tools for eDFT, testcoverage analysis and calculation, New Product Introduction.
QUAD repair loop: Demonstration of traceability for PCBA and electronic systems production data with powerful support for PCBA fault diagnosis.
Q&A: Feel free to communicate your questions in advance
FOR FREE REGISTRATION PLEASE CLICK HERE TO SUBSCRIBE!
All presentations, hand-outs and brochures will be available for download.
We hope to welcome you on our Aster Technologies User Group Meeting!