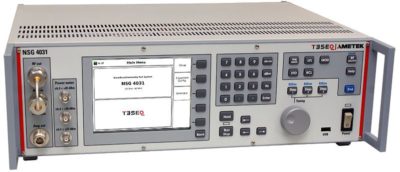 This New basic standard 61000-4-31 was published in July 2016 it describes conducted symmetrical broadband disturbances testing (white noise) on AC power lines within the Frequency band of 150 kHz to 80 MHz.
Examples for broadband disturbances are: Data communication on AC power lines, switched mode power supplies, power electronics (frequency converters, …). Product standards to be expected within the next years.
Testing is only applicable for equipment having at least one AC mains port and only to single phase equipment with a rated current ≤ 16 A.
Teseq solution NSG 4031
The broadband immunity test system NSG 4031 has been designed for compliant testing in accordance with IEC / EN 61000-4-31 It contains a white noise generator with four different band flters to allow band limited testing as may be required in future product standards.
The internal power meter are capable  to show the forward power as well as the VSWR of the connected setup. The three front panel inputs  allow an easy test level setting procedure. The internal power amplifer with more than 80 Watts output  power allows test levels 1 to 3 as given in table 1 of IEC / EN 61000-4-31 also including an optional 2 dB  attenuator which can be used in case of severe EUT mismatch. Due to the powerful and easy to use firmware the NSG 4031 is independent from an external PC and control software.
Accelonix can deliver all necessary accessories like the coupling/decoupling network CDND, calibration tools and cabling.
Link to productpage.
Please contact us for more information.