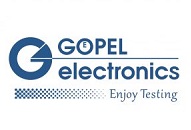 GOEPEL electronic is a leading provider of innovative test and inspection solutions for printed circuit board assemblies (PCBAs) and electronic devices and systems.
With advanced testing and inspection systems for electronic assemblies and printed circuit boards, GOEPEL electronic helps discerning customers from various industry sectors to maintain their commitment to quality.
The company's wide range of technology provides a basis for finding manufacturing defects at every stage of the product life cycle – from design to end-of-line.
The aim is always a flawless finished product, whether it is manufactured in series or a prototype. The 'Made in Germany' seal transcends national borders: with offices worldwide and a global service network, GOEPEL electronic is always on hand for its customers.
Inspection of Printed Circuit Boards

GOEPEL electronic provides powerful and technologically high-quality systems for optical inspection of printed circuit boards. These can reveal manufacturing defects during production: for example, faulty solder joints, high-density or incorrectly positioned modules and defective components.

Automated Optical Inspection (AOI)
Automated X-ray Inspection (AXI)
Automated Solder Paste Inspection (SPI)
Industrial Vision Solutions (IVS)

Efficient Testing and Programming

Increasing complexity of the assemblies and reduced accessibility are the hallmarks of modern electronics. The multifunctional JTAG platform enables testing and programming of microprocessors, microchips and other highly complex components (e.g., FPGA, µBGA or CSP) using integrated boundary scan architectures.

Embedded Board Test
Embedded Programming
Embedded Functional Test