Introduction
Applied Micro Electronics (AME) is a Dutch-based company, specialized in development and production of high-quality electronics and complete products. Located in the technical area of Eindhoven, AME combines electrical, mechanical, software, and industrial engineering to provide innovative products to meet the highest customer expectations. AME puts particular attention to the quality assurance during the electronics manufacturing process. With a total of 9 inspection systems, GÖPEL electronic is covering a large part of quality assurance in terms of inspecting the manufactured electronic assemblies.
Electronics Production at AME
The in-house electronics manufacturing is an important part of AME. Short communication paths between design and production assure high flexibility. Around 70% of the output are own designed products, the rest is EMS business. 250 to 300 different products in a high mix / low volume range are manufactured on 3 SMD and 3 THT lines simultaneously. As a result, a variety of assembly, soldering, and inspection systems are involved in the software controlled processes, leading to a fully automated factory. The company regularly invests in new equipment and machines in order to always be at the cutting edge of technology and to have the most efficient systems available.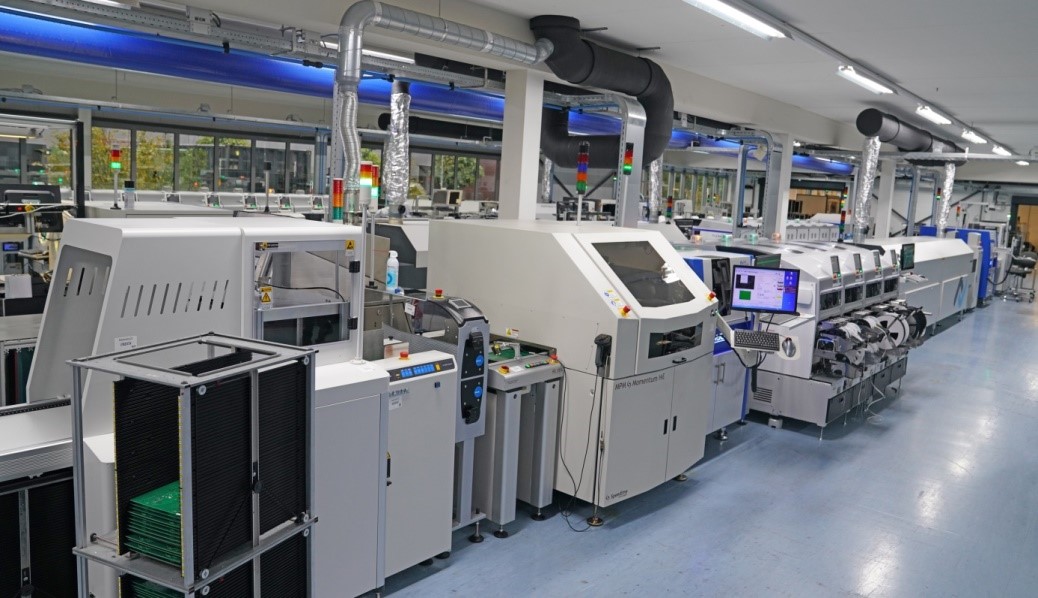 Test Strategy
In the past, AME focused on the combination of ICT (In-Circuit-Test) and 2D AOI (Automated Optical Inspection). This strategy changed during the last years to a combination of 3D AOI and functional test. One reason was the ever-increasing workload for the ICT programming. On the other hand, the performance of 3D AOI systems steadily increased, especially in regard of solder joint inspection and short detection in the final test stage. 3D AOI quickly gave a high grade of process control by 3D measurement of the PCBAs. Reliable data and a clear detection of pin faults made 3D AOI an essential part of the AME test strategy.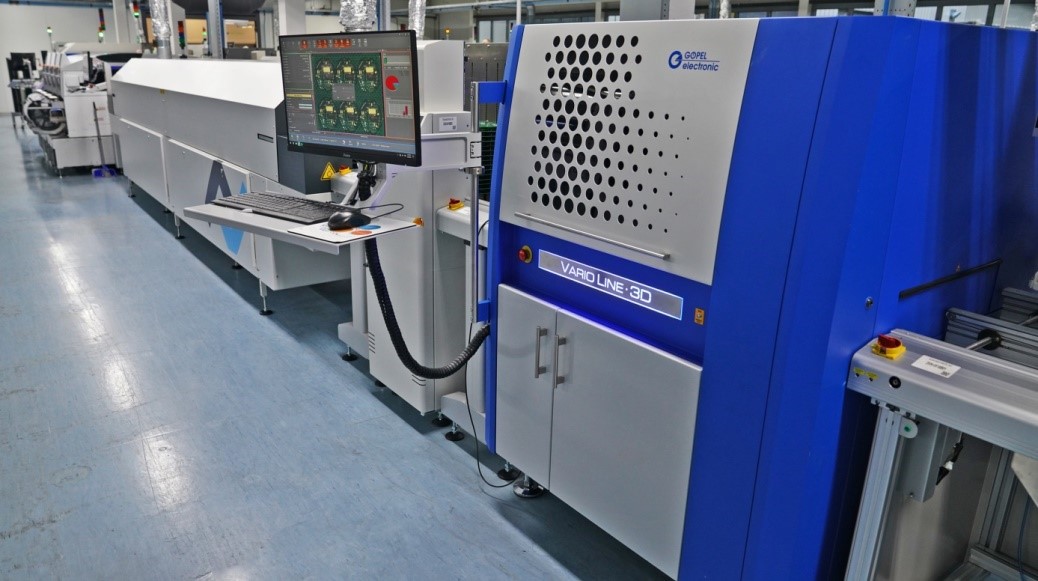 Experiences with GÖPEL electronic
What started out in 2019 as an initial research in THT equipment finally led to the replacement of all inspection systems by GÖPEL electronic. The long-standing engagement between AME and the GÖPEL electronic local partner, ACCELONIX, led to the evaluation of SPI and AOI systems in addition to THT.  With the additional SPI and AOI inspection systems, a total of 9 GÖPEL electronic systems are now part of the 6 production lines.
Up to this point, AME had already been using 3D AOI systems from another vendor. However, there was a need for a less complex programming solution, as several product changes are carried out on the systems in one single day. In particular, the creation of component library entries was very time-consuming on the previous inspection systems. Since for every small change at a component, the models had to be completely recreated.  The decision to change over to GÖPEL electronic systems was therefore primarily based on the factor of test programme generation. Joep Daemen, Manager Factory Innovation & Investments at AME, is happy with their new systems. "Our new AOI systems are superior with regard to their software architecture. The test programmes are more stable and after a short time we have fewer false rejects. And all of this with a much-shortened programming time and reduced programme debug."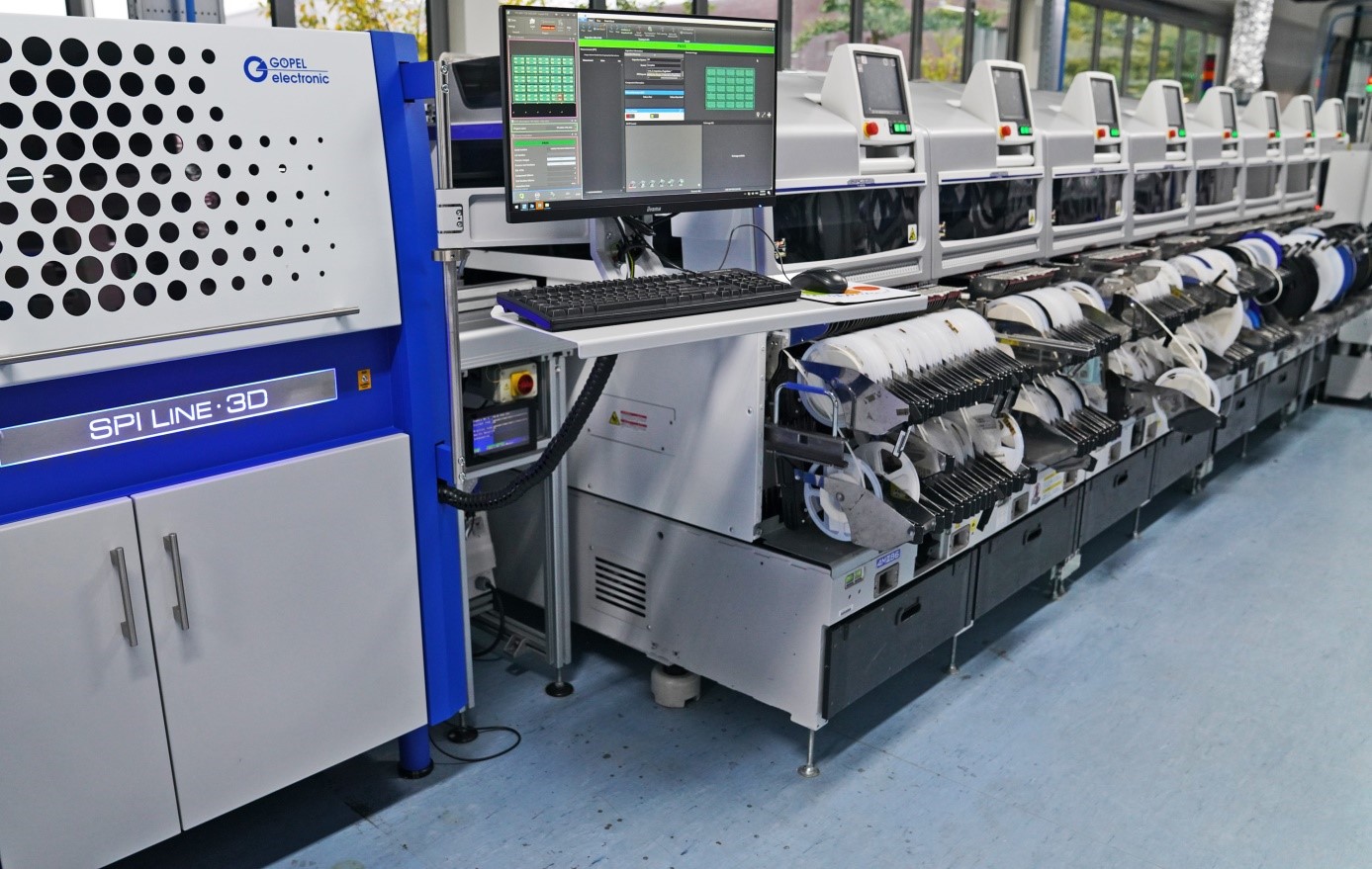 Another advantage AME recognised was that different inspection algorithms can be used by different inspection programmes. However, one feature proved to be particularly helpful: all inspection systems have the same software. This means: a THT system – like the THT Line · 3D – can use for the inspection of SMD components the same inspection algorithms as the SMD AOI system Vario Line·3D. Especially with a larger number of inspection systems and inspection programmes, processes are thus significantly simplified. The same user interface gives the personnel greater flexibility. Re-using inspections of SMT components can be done effortlessly when required. If an operator does make changes to the programme, these are also displayed and made comprehensible later when used on other systems.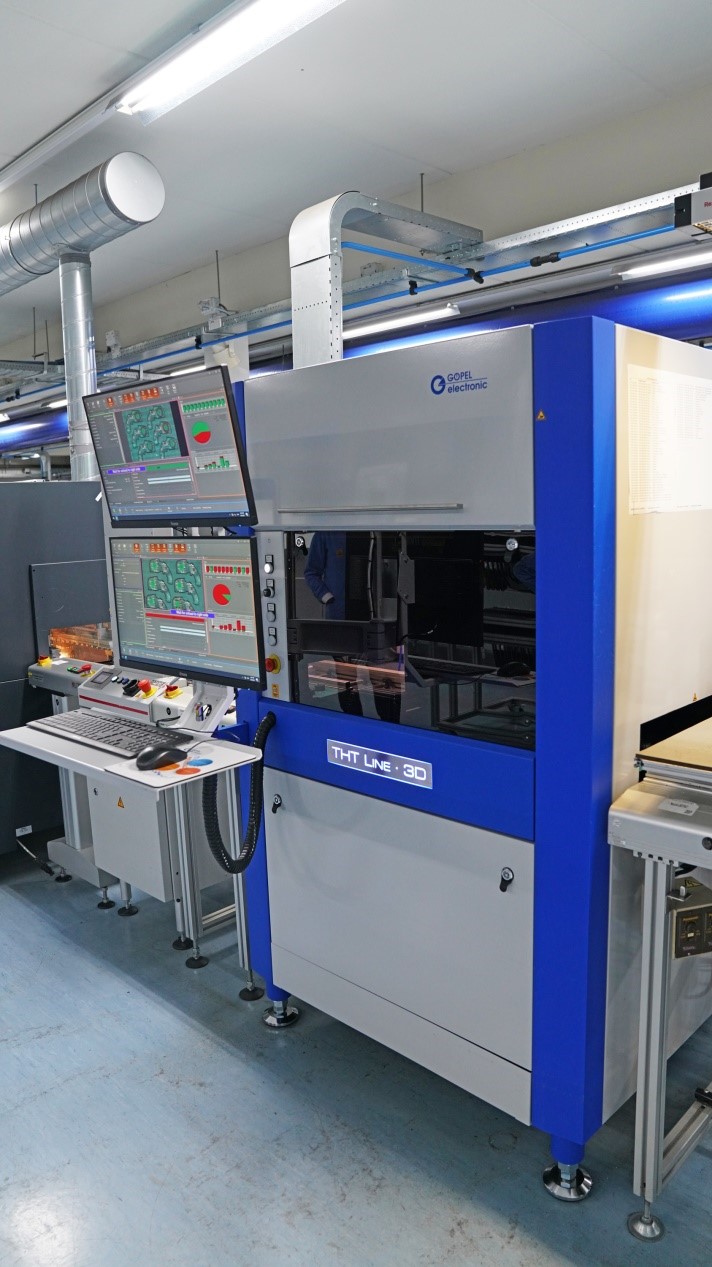 Conclusion
Since AOI programming was an "Achilles heel" with the large variety of products, the inspection systems from GÖPEL electronic were able to bring significant advantages. A low false reject rate, fast and simple programming as well as very good 3D images exceeded expectations. The AME operators are also very satisfied with the project support and the entire implementation process:  "Looking back on the whole project, we are really convinced about the technical capabilities from GÖPEL. Besides that, we were pleasantly surprised by the perfect service solutions of GÖPEL electronic and their local partner ACCELONIX. The whole implementation went without any effort. It was quite a complex project because it was happening all during the Covid era. Because of the flexible GÖPEL support organization and the excellent remote communications capabilities of the AOI systems, the restrictions to travel had almost no impact during the whole project".
Author:
Matthias Müller, Public Relations Manager, GÖPEL electronic GmbH