What is PCD?
PCD Technology revolutionizes how you dispense and how you perceive dispensing.
PCD is a continuously volumetric dispense pump based on the Progressive Cavity principle. PCD technology is an innovation in dispensing for a wide range of fluids, from low viscosity coatings to high viscosity greases. The many advantages of PCD technology will simplify your dispense process and improve reliability and quality in the long run.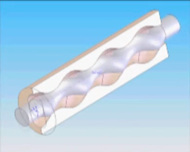 Pump will not drip or drool even when under 80 psi of pressure.
Dispense as much or as little as you need – volumetrically.
Experience outstanding repeatability over the full range of fluid pot life.
Level of fluid in a syringe will not affect the volumetric repeatability or capability of the pump.
You will no longer need to make manual adjustments during a process to compensate for pump variability. Productivity improves because operators no longer need to spend time fine tuning or performing rework for insufficient or inadequate fluid.
The two primary parts of PCD continuously volumetric dispense technology are the rotor and stator. The rotor "threads" into the stator, and a "fluid engine" is generated between the two. The rotor is a stainless steel, single helix device with a complex geometry designed to push fluid through the double helix stator. In the fluid engine, two out-of-phase fluid chambers are deposited to the substrate. When the rotor rotates, fluid is fed from chamber A, chamber A + B, or Chamber B. At any time in the dispense process the volume of fluid is the same.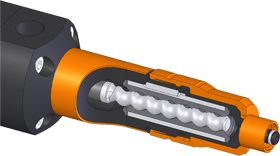 PCD dispense technology enhances dispense processes that require fluids ranging from very low viscosity, such as water, to thick pastes up to 80,000 cps. Semi-abrasive fluids can be handled by the PCD Volumetric Pump because it pushes fillers through the pump rather than grinding them.
Underfill
LED encapsulation
Flux
Grease
Conformal coatings
Silicones
And many more