Compatible with Wide Range of Fluids
Jetting pumps are excellent for dispensing small volumes of fluid at high rates of speed. The NCM5000 simplifies jetting to its basic elements – this means easy set up, cleaning, and maintenance for you. The drive system is designed for reliable pneumatic operation at high speeds.
Dispense Range
The NCM5000 is compatible with a wide range of fluids: UV curables, SMT glue, Underfills, and LED encapsulants to name a few.
The NCM5000 pump seamlessly integrates into GPD Global platforms using toolless taper-lock mounting hardware. By pushing a single lever, the operator can either lock the pump in place or release the pump for maintenance or changeover without tools.
Programming is easy. The operator programs the open/close time, typically defining the smallest shot of fluid to be dispensed. For larger dots, multiple shots are programmed in the same location.
During processing, the NCM5000 pump dispenses from a constant height of up to 4 mm above the surface.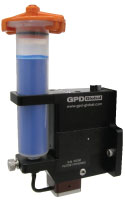 An uneven surface does not impact the process. Process rates up to 50,000 DPH can be achieved.